Nowadays, team building is gradually becoming a trend that businesses prefer to use to enhance the quality of personnel. Let Ben Thanh Media – Event introduce you to some trends in team building through the article below.
1. What is team building?
Team building is an activity that brings people together by providing more opportunity for individuals to share and better understand one another. Since then, team spirit and work efficiency have both increased.
This is considered another type of support for team building and development assistance that includes things like coming up with ideas, designing, building games for everyone in the company, in the team to interact together. Through this activity, players will have more fun and intimate moments with each other.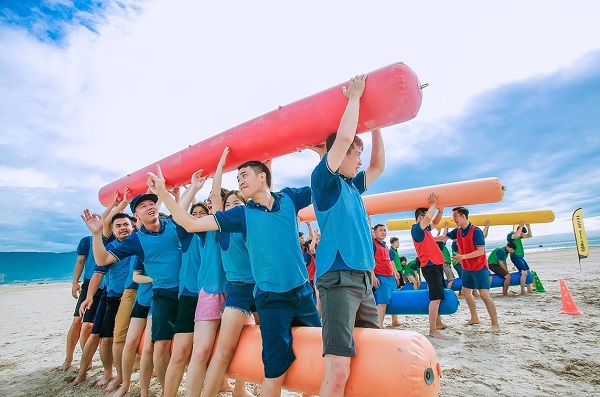 (Image source: Internet) 
2. Why should organize team building?
Organizing team building activities is an essential activity for firms looking to increase the quality of their human resources. Some reasons to organize team building such as:
Enhance teamwork:

Team building games are inherently created in groups, therefore if groups want to win, there must be smooth assignment and cooperation among team members. Similarly, employees in the company's departments will develop positive relationships with one another in order to achieve peak performance at work.

Strengthen solidarity:

Individuals have the opportunity to display their talents and faults through games. They can promote their full potential, unite, and work together to create a good working environment.

Develop creativity:

This is a good opportunity for individuals to have more new ideas and creativity to solve problems. This also contributes to promoting the ability to innovate at work to create new results and new values for themselves as well as for the company.

Help employees have time to relax:

Working constantly for several days can easily exhaust people, resulting in inefficiency at work. As a result, the company arranges team building activities on a regular basis to provide staff time to unwind, relax, and rediscover their motivation to work harder.

Improve time management:

Team building is an opportunity for members to improve their time management, which means that each member must give up certain personal habits in order to integrate into the team.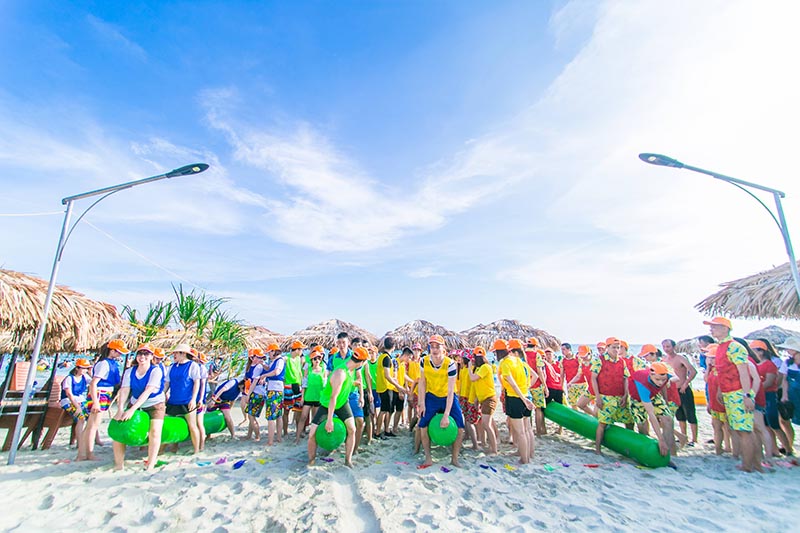 (Image source: Internet) 
3. Some trends to organizing team building  in 2023
With such benefits, here are 6 team building concepts that are being used most commonly by businesses today:
Team building at the beach 
Because of the benefits it provides, team building at the beach is frequently preferred by businesses. Here, people can rest at the famous resorts of the country, entertain themselves by swimming, surfing, shopping, enjoying seafood and having their own beautiful pictures.
Furthermore, because of its open space, the beach will be a fantastic area to conduct team sports, outdoor parties, and so on, making it easier to come up with new games, keep the enjoyment fresh and never grow bored.
(Image source: Internet) 
Cultural experience team building 
Vietnam has an extremely rich culture that dates back thousands of years. Taking advantage of this, businesses have blended team building and cultural understanding with the goal of both letting employees have a relaxing vacation after a working week and expanding employees' knowledge of the culture and history of the country.
It can be said that this is the type of team building closest to life, because of this concept, people will not remain in luxury and high-class resorts, but they will experience folk games, traditional festivals, or hilly places, highlands where highly distinct and distinct civilizations thrive. Not only that, in those areas, people may put on local traditional clothes, create regional delicacies, and learn dances to the strains of native musical instruments.
(Image source: Internet) 
Tech-based team building 
This is a new type of team building that has received a lot of attention from businesses recently. Overcoming the barriers of traditional team building forms, technology team building brings new experiences. When organizing traditional kinds, corporations must consider several factors such as budget, location, and … then team building technology application will solve these problems.
For this concept, employees will use mobile apps to connect with each other and with the organizers. The application will then display the requests, as well as the games for the groups to play at a certain time. To complete activities such as check-in photography, photo-taking, IQ quizzes, or timed video games, players will need to work together. The group with the highest results and fastest time will win and get a prize. 
The combination of technology and team building creates new experiences that make players not bored at work, improving the quality of work.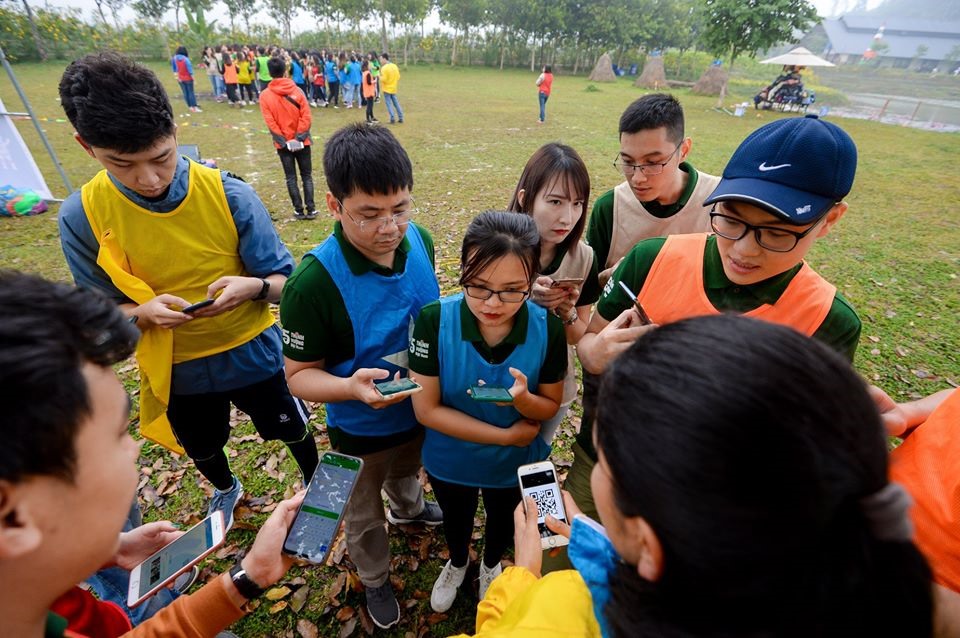 (Image source: Internet) 
Army leadership team building 
Army team building is understood that the employees in the company will have the opportunity to experience the military environment like a real soldier. Following the training exercises, the staff will have a better understanding of the demands as well as a better understanding of the military environment. Furthermore, everyone is also trained in sportsman spirit, willpower, determination, and other skills that are essential in daily jobs.
In addition, military team building also brings many benefits to the participating employees. The first thing to highlight is the spirit of perseverance, which aids us in facing unanticipated uncertainties. And add a lesson in discipline when the military is a place that requires absolute time seriousness, so people can practice more about discipline to improve performance at work.
(Image source: Internet) 
Challenge course team building 
The amazing race is a program consisting of racing competitions and challenges usually held in specific terrains in different regions that require participants to combine intelligence, adventure, or excitement. Conquest brings a sense of excitement to the player. During the race, team members must work together to overcome obstacles such as deciphering information, route maps, solving riddles, and so on.
Coming to the amazing race, members will have to work together to solve difficulties, which will help them strengthen their communication skills, boost creative thinking, and build a great working atmosphere, all of which will promote company success.
(Image source: Internet) 
Marathon team building
Recently, in addition to marathon events organized by professional units, marathons organized by businesses have also attracted a lot of attention from the community. Businesses frequently use marathons as a team-building event to engage employees and improve sportsmanship.
The organization is similar to a professional running race, but the participants are corporate workers. Some corporate races, such as Vietcombank, VP bank, BIDV, have received a lot of attention.
(Image source: Internet) 
Most firms nowadays need to arrange team building exercises to improve the quality of their people resources. Ben Thanh Media – Event hopes that the following basic information has inspired you to plan team building activities for the upcoming summer.